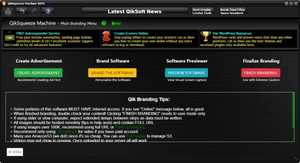 QikSqueeze Machine Rebrandable Software
The free to download squeeze page creator software, QikSqueeze Machine for Windows can be rebranded with your information. That's right, this is rebandable software! Owning your own software can be a money machine. You can (optionally) place a link in the software footer and refer others to purchase software rebranding rights. When someone buys software rebranding rights, you earn a cool 50% Affiliate commission on each and every sale!
You ALSO can place other affiliate products in the footer from Warrior+, JVZoo, Zaxaa, QikSoft and Groove. It is up to YOU which product to promote! We do not force you to promote rebanding rights to the QikSqueeze Machine.
Check out the main software branding rights screen: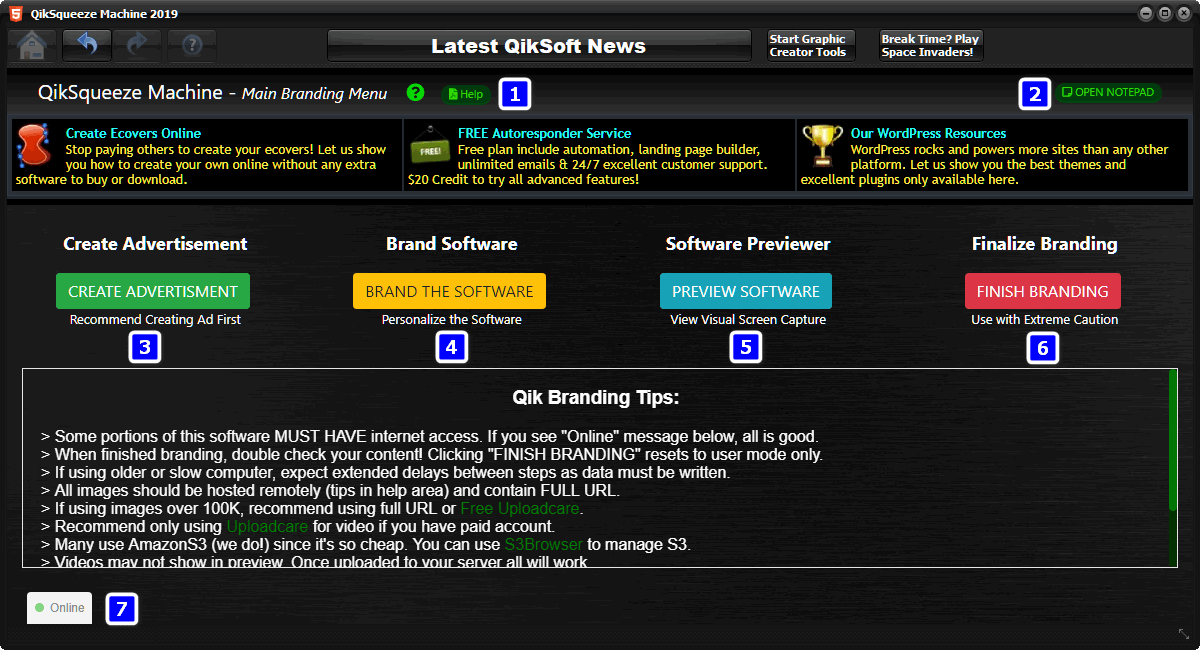 Here are top features of this free squeeze page creator software:
Built-in Easy to Follow Help - We cover every aspect of rebranding your software. The easy to follow instructions will have your software ready to go within the hour.
Built-in Notepad - Keep up with all the data you need to rebrand the software. We use the notepad mainly to keep from opening up different browser windows to obtain links and such.
Header Ad Creator - The QikSqueeze Machine software is designed to give-a-way free. Hence you create header ads with content YOU decide on, which can be changed on the fly WITHOUT rebranding the actual software! Example:


Easy to Use Branding Area - This is the nuts and bolts area (more screenshot below) where you enter all of your information. Header ad URL, button URL's, RSS feed and more.
Software Previewer - Follow your branding progress at any time but taking a peek of the software front page. Excellent way to see how your header ads look.
Fianlize Branding - When you have completed the branding process, you simply click a couple of times to place the software into user mode and it is ready to go.
*Online Status - This indicator lets you know your internet connection to our servers is good to go!
* you MUST have and maintain an active internet connection to rebrand our software products.
Take a peak at these screenshots from the QikSqueeze Machine Brander header ad creator:
Creating your header ads is as simple as filling out the form, saving and then uploading the ads to your online web hosting account. You can do this by using the built-in FTP method or download the file and upload via your hosting file manager, your choice!
Rebranding the rest of the software is simple as gathering your content and entering it into the designated fields. Take a look at this screenshot to see what we mean: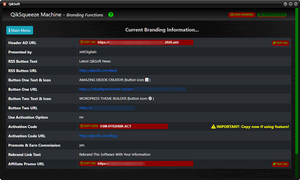 Overview of Brandable Software Sections
Header Ad URL- This is your customized URL for the software header ad section. The companion branding software allows you to create your own ads. The ads file is then uploaded to your webhost and served live to all your software users.
Presented By - Yours or compnay name that appears a few places in software.
Test URL - Allows you to test the URL's and ensure they are correct and working.
RSS Button Text - You can customize the button text for below RSS feed.
RSS Button URL - URL to any compatible online RSS feed. For example, we use one of our WordPress sites.
Button One Text & Icon - Enter text and icon for left button
Button One URL - Enter target URL for left button
Button Two Text & Icon - Enter text and icon for right button
Button Two URL - Enter target URL for right button
Use Activation Option - Optional list builder! Require users to enter activation code to use software
Activation Code - Desired activation code
Activation Code URL - Enter target URL where users can obtain their activation code
Promote & Earn Commission - You can promote the QikSqueeze Machine rebranding rights, or other programs from W+, JVZoo, Zaxaa or Groove
Rebrand Link Text - Your custom text for the affiliate promotions
Affiliate Promo URL* - Enter the supplied affiliate program from one the above approved programs
 * can only promote affiliate products from qiksoft, w+, jvzoo, zaxaa or groove funnel.
Entering the above information is "fill in the fields" like this: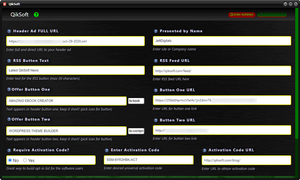 To give you an idea what areas of the target software that you are branding, look at this screenshot of the QikSqueeze Machine software: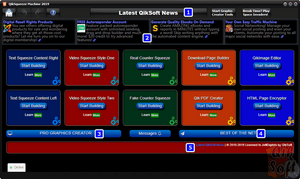 Full Page RSS Feed - Customize the button text and the associated RSS feed that is loaded when button is clicked by user.
Header Ads - Completely customizable by using the built-in ad creator. The icons are automatically pulled from target URL's favicon. NEW! We now also provide a stand-a-lone version of the ad creator so you can modify ads without having to use the brander.
Button One - Customize the button text and the associated URL.
Button Two - Customize the button text and the associated URL.
Your Name - Place yours or Company name here. The text is linked to the RSS URL from (1) above.
Before you continue, we HIGHLY encourage you to download and install the free version of QikSqueeze Machine that is offered by QikSoft. This will give you a good idea if the software is something you wish to distribute. If you like what you see, by all means purchase software branding rights and start offering it on your own site!
Remember, you have the option of placing a link in the software footer to offer branding rights to your users. This will earn you a 50% commission on every sale.
Terms and Conditions
Lets recap what exactly rights you get with your purchase:
Rights to rebrand the specified areas shown above
Can give the software away for free via direct download
Can give the software away in exchange for email opt-in
Can be sold but highly discouraged as many will give-a-way for free
Can add rebranded copy with personal rights only to PAID membership site
Lets talk about what you CANNOT do:
Cannot rebrand using ANY TYPE of adult offer links
Cannot rebrand using ANY TYPE of gambling links
Cannot rebrand using ANY TYPE of crypto currency links
Cannot rebrand using ANY TYPE of dating links
Cannot rebrand using ANY TYPE of illegal activity links
Cannot rebrand for ANY OTHER person other that yourself
Cannot offer rebranding options FROM ANY TYPE of membership site
IMPORTANT INFORMATION: If you decide that you do not have to follow our terms, we will give one and only one warning. If correction is not made in 7 days, your access to branding will be removed. No second chance and future rebranding will be impossible. ALL links you use to rebrand are recorded into our database at time of branding for our future reference. We are not trying to be "big brother" and monitor your actions, we are only protecting ours and other users investment in this powerful platform... Please do not force us into revoking your access, we really do not wish that!
Requirements
Please review the requirements to ensure the best experience with the QikSqueeze Machine Brander...
Active Internet Connection (mandatory)
Windows 7+, 10 recommended (mandatory)
Six [6] Gigabytes Memory (recommended)
CPU Released within 4 Years (recommended)
The things you MUST have at minimum are an active internet connection and Windows 7+. Without these two things, the software will not work at all. All the templates and associated files must be downloaded when you first start the software (makes it wasy for us to update them). Since the software is optimized for Windows 10, we of course recommend using it on the 10 platform.
Please try the FREE QikSqueeze Machine before purchasing rebranding rights. If it will not function properly for you, the software rebrander will not either...
Since we believe in vendor transparency, it is important to note the following information right up front before you make this purchase.
1) We place one small ad at top of design pages, which helps us offset the cost of maintaining the software and server that supports it. This is what they look like: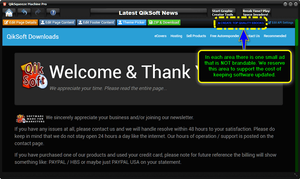 2) There is a message center built into the software. The message area allows us to alert users about software updates, announcements and other information QikSoft deems appropriate. DON'T WORRY, if we alert users about software security updates, we tell them to visit the person / company purchased from to obtain updates.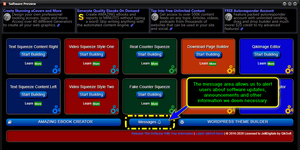 If either of these are not acceptable in your eyes, then we recommend you do not purchase. We must have some type of income to maintain the software and backend infastructure for the long term. We must also be able to alert users about important issues. From time to time we may also recommend other quality products.
Please use the "I Agree" button to reveal the purchase options...
TIP: You have the ability to place a (optional) link in software footer alerting others they can purchase rebranding rights. Easy 50% commission on every sale! You can Learn More Here...