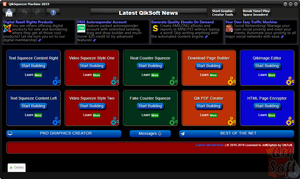 The free squeeze page creator, QikSqueeze Machine software for Windows will allow everyone, no matter their web design experience to build product squeeze pages with opt-in forms and download pages. You can build image and video based squeeze pages fast! We have also built-in an option to encrypt your squeeze pages to help prevent theft.
Here are top features of this free squeeze page creator software:
Text & Image Squeeze Pages - This is one of the most popular type of product squeeze pages. Enter product description with the built-in WYSIWYG, add your images and opt-in form.
Video Squeeze Pages - This is a great way to show your visitors a visual preview of what you are offering. We tested with YouTube, Vimeo, Dailymotion and Twitch but should work with most others.
Countdown Pages - Placing an "urgency" on a squeeze page is very popular. Or if you want a real countdown for a product launch, you can do so with ability to forward visitors to any URL after countdown has expired.
Product Download Pages - Build a custom product download page where people who opted-in can claim their product. When setting up your opt-in form with provider, enter download page URL for confirmation link.
HTML Page Encryptor - You can encrypt your generated HTML files to help prevent people from stealing your code (or just stop plain ole snoops). Simply upload an .html file and download the encrypted file.
Simple PDF Creator - You need to create a license, terms or product documentation PDF and you can do so without starting up any other software. The built-in PDF creator is VERY simple to use.
Basic Image Editor - It never fails that images need to be resized, cropped or tweaked. So many times this happens and the need to start up yet another software to complete a simple task, but no longer!
*Basic eCover Creator - Although this BONUS feature does not create hi-res digital ecovers, it does a great job for smaller images. Perfect for placing ecovers in your squeeze pages created with QikSqueeze Machine.
*Banner Creator - You can create banners of many types and sizes with this BONUS point and click software.
* ecover & banner creator software will need flash installed for internet explorer (not edge, but IE 11). if flash works in your current IE, should work with this bonus software. we cannot provide flash support:(
Take a peak at these screenshots from the free squeeze page creator software: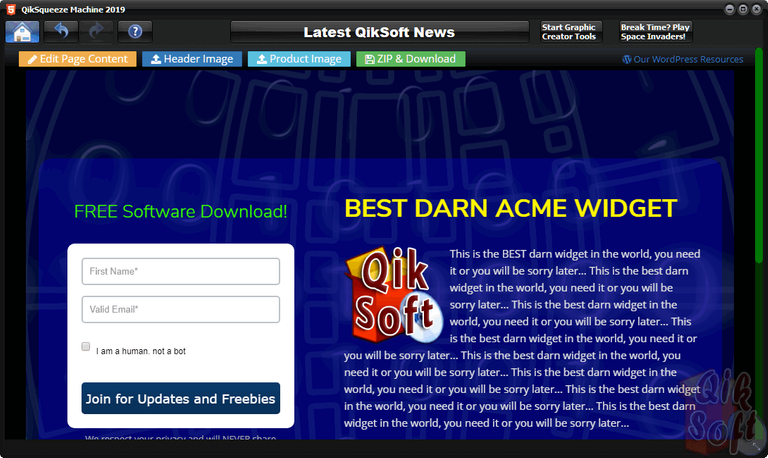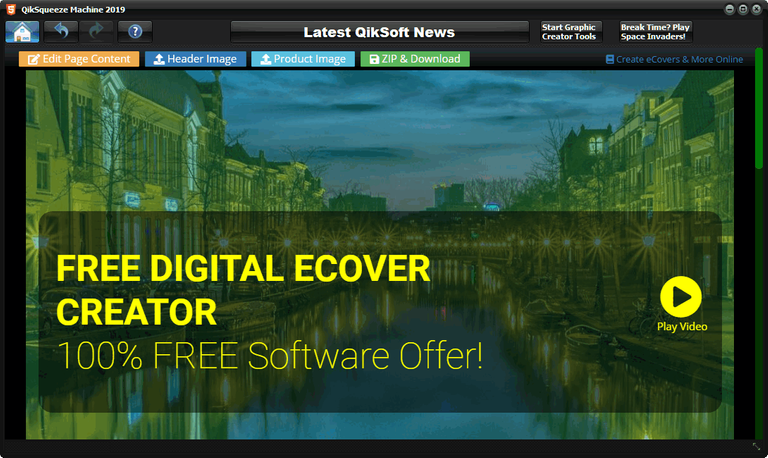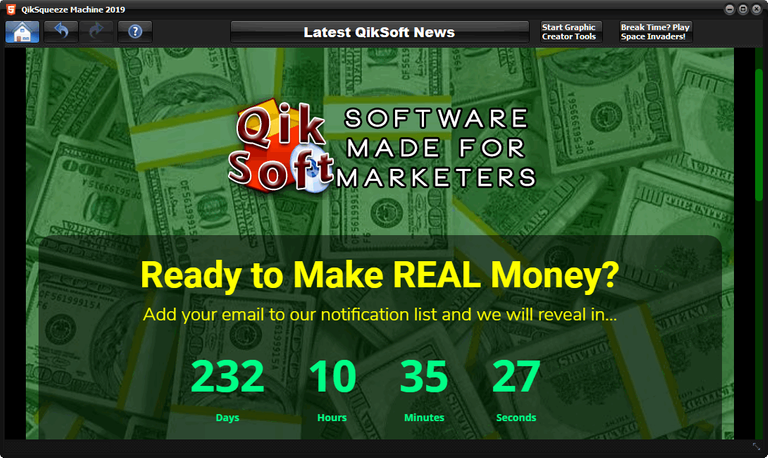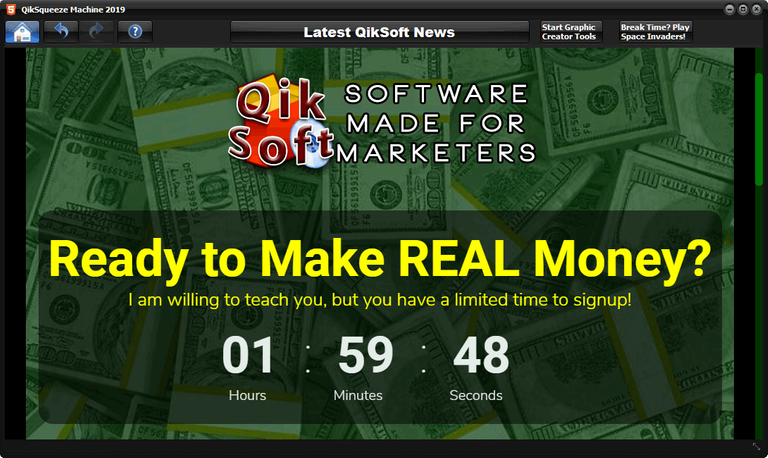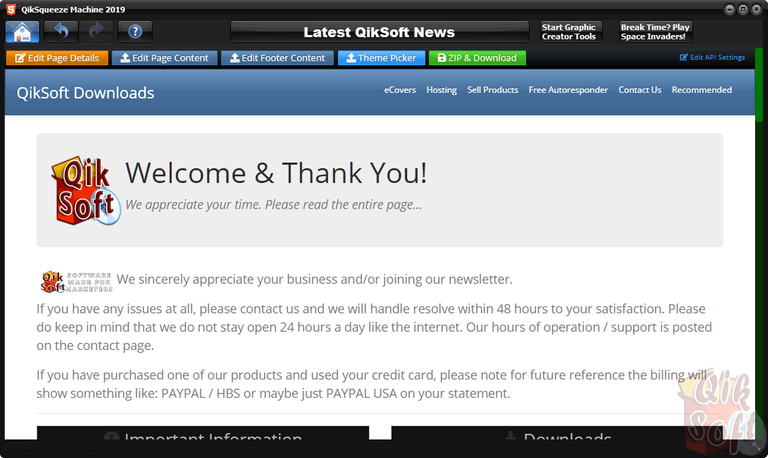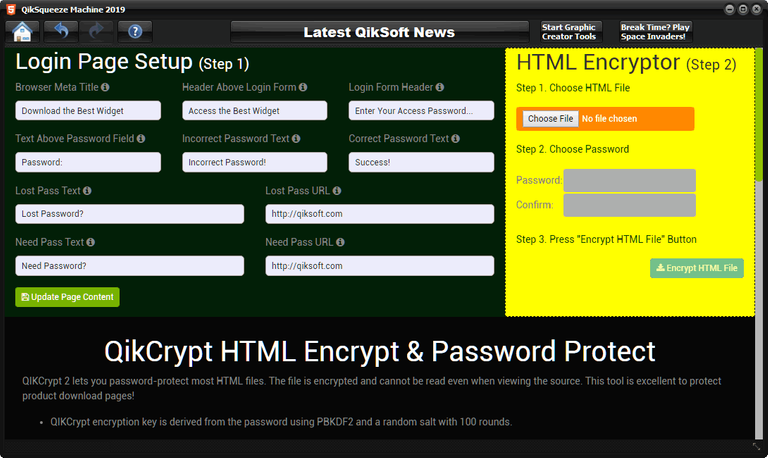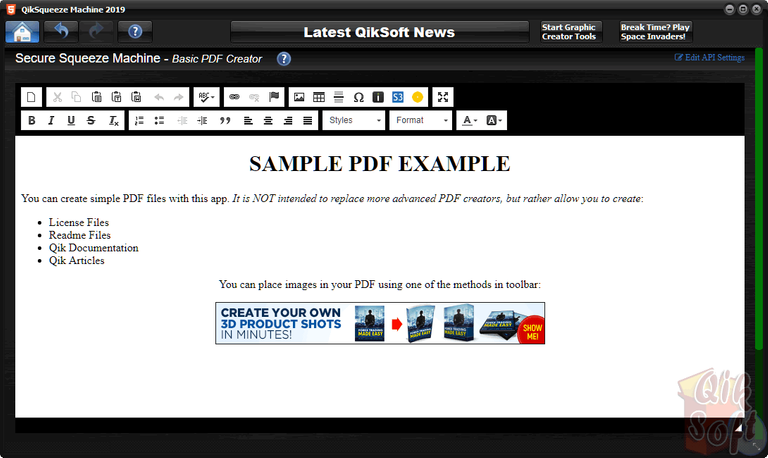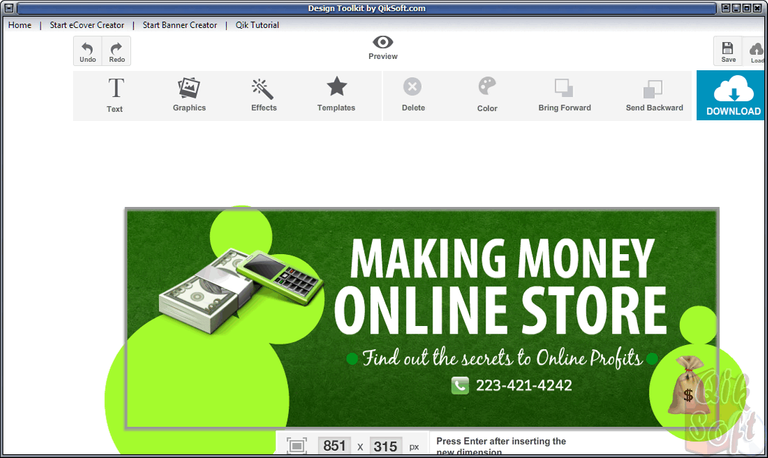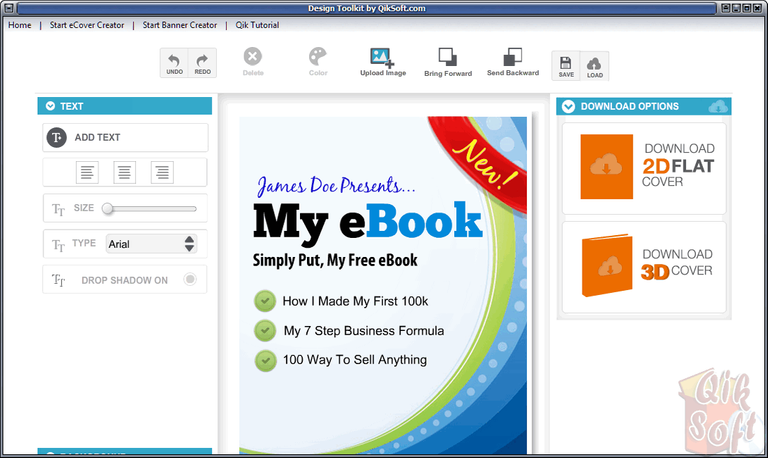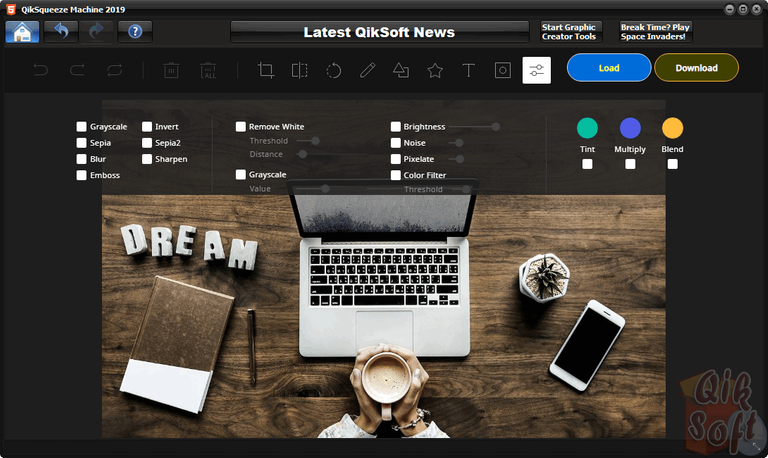 Now you are thinking and asking yourself: why are these people offering this powerful software for free?
Simply put, the software is created by a group of young people learning how to code! They are of course under supervision and all code is quality checked.
We will tell you right up front that the QikSqueeze Machine software contains ads but in NO way do they interfere with operation. You do not have to click anything unless it catches your fancy. Once you install the software, all features are available and there are no "pay to unlock a feature". You get full featured software at no cost that is proudly created with the love of coding.
Requirements
Please review the requirements to ensure the best experience with the QikSqueeze Machine...
Active Internet Connection (must)
Windows 7+, 10 recommended (must)
Six [6] Gigabytes Memory (recommended)
CPU Released within 4 Years (recommended)
The things you MUST have at minimum are an active internet connection and Windows 7+. Without these two things, the software will not work at all. All the templates and associated files must be downloaded when you first start the software (makes it wasy for us to update them). Since the software is optimized for Windows 10, we of course recommend using it on the 10 platform.
Download
To download the free squeeze page creator software, simply fill the form, check your email and click the link provided within the email body.
After you have tried the software, why not purchase rebranding rights and place your information within? You can place you own header ads and button links software branding rights! You can Learn More Here...